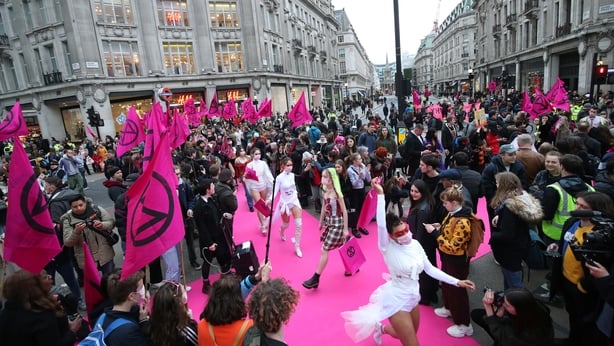 Police arrest a climate change protester on Waterloo Bridge during Earth Day climate change protests in London on Wednesday.
The group Extinction Rebellion is trying to block five central London locations Monday to demand the British government declare a climate emergency.
Extinction Rebellion has said that it will continue the protests in London all week, escalating the disruption day by day.
Last night police began to remove the protesters... "It's like a world war".
Transport for London have said that said that Marble Arch remains blocked.
The scientist said the group was calling on the United Kingdom government to fulfil three demands: to better inform the public about climate change, to make the country carbon neutral by 2025 and to create a citizens assembly model on environmental issues.
Social media was awash with pictures and videos of activists blocking the streets of Oxford Circus, Waterloo Bridge, Marble Arch, and Parliament Square with banners and sculptures, including a massive pink boat sporting the words: "Tell the Truth".
"This crisis is only going to get worse ..."
Eight dead after tornadoes rip across US South
Multiple people were injured and several homes were damaged in Hamilton, Mississippi, said Monroe County Coroner Alan Gurley. In Texas, authorities said a woman died on Saturday night when a tornado destroyed her mobile home, CNN reported .
Police said five of those arrested were detained after the Shell building near the River Thames was targeted. "We must act now".
Monday will see protesters in around 80 cities in more than 33 countries hold similar demonstrations on the same environmental issues, campaigners say.
"We are taking positive action against those who are choosing to ignore this condition and are continuing to demonstrate in other areas across London".
At lunchtime on Tuesday police said there had been 122 arrests in connection with the demonstrations.
Police advised people travelling around London in the coming days to allow extra time for their journey in the event of road closures and general disruption.
"In Europe, out of Europe, it makes no difference if we have no liveable habitat", he said.
Blythe Pepino, 34, from Hereford, said: "The goal is to maintain the disruption on the bridge to bring the Government to the table and talk about the climate crisis".