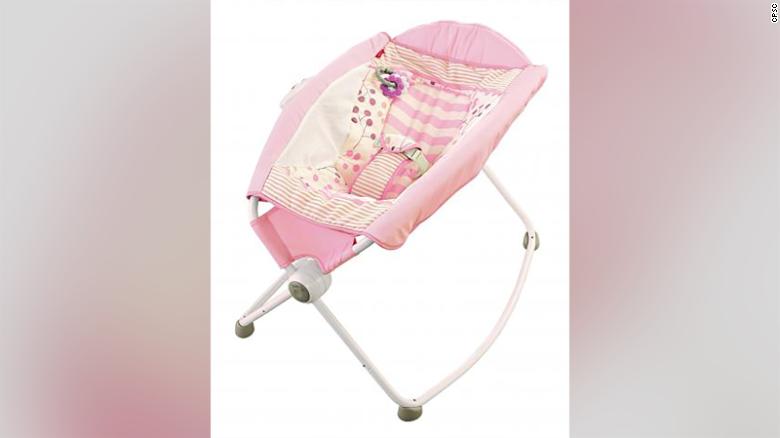 Fisher-Price issued a recall of 4.7 million Rock 'n Play Sleepers Friday after multiple infants were found to have died while the product was in use. "Anyone with a Rock 'n Play Sleeper should be given a full refund".
More than 30 infant fatalities have been reported since the product was introduced in 2009, "after the infants rolled over while unrestrained, or under other circumstances", according to the Consumer Product Safety Commission.
"Putting safety first, in partnership with the CPSC, Fisher-Price issued a voluntary recall of our Rock 'n Play Sleepers", Fisher-Price tweeted.
The recall was announced by the US Consumer Product Safety Commission (CPSC) on Friday.
The CPSC previously recommended consumers stop using the product by three months of age, or as soon as an infant exhibits rollover capabilities.
The CPSC and Fisher-Price had issued the warning last week that the Fisher-Price Rock 'n Play can be unsafe for children who have exhibited the ability to roll over.
Ex-NFL Player Charged in Death of Girl 'Afraid to Go Home'
The girl, 5-year-old La'Ravah Davis, died Tuesday night at Summerlin Hospital, according to the coroner's office. An arrest report reveals she was taken to a hospital and found to have bruising to her torso, legs and abdomen.
More importantly, if they are sleeping somewhere high and without any kind of barrier around them, babies that roll over can fall.
The announcement comes after an investigation by Consumer Reports indicated that 32 deaths were tied to the rockers.
"Fisher-Price and every one of our employees take the responsibility of being part of your family seriously, and we are committed to earning that trust every day", it said.
The AAP has warned that inclined sleepers such as these do not align with safe sleep guidelines, which state that babies should be put to bed alone on their backs, on a firm, flat mattress, free from soft bedding.
In May 2018, the CPSC issued a warning to parents indicating they were "aware of infant deaths associated with inclined sleep products", specifically, "bassinet-like products with an inclined back to elevate the baby's head and torso".
For more information about the recall, visit the CPSC site here.