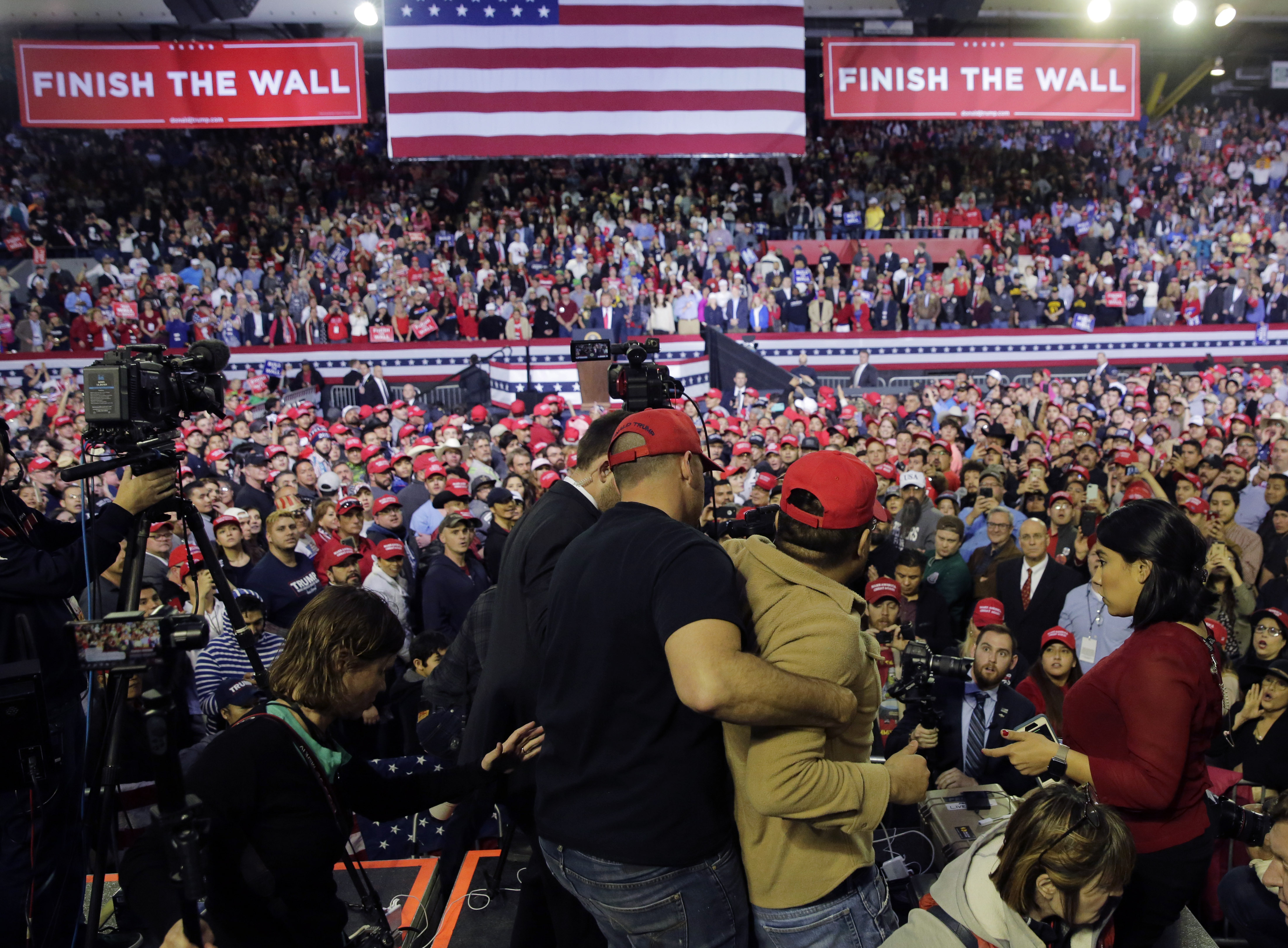 After 10 seconds of bouncing around, the camera then focuses on a man in a red cap, who is being restrained by another man in a black top.
President Trump checked that the British journalists were okay with a thumbs up, and continued his speech after Mr Skeans returned the gesture.
She later added: "To all those who asked after the cameraman - Ron is fine".
Washington correspondent Gary O'Donoghue said his colleague Ron Skeans had been filming a rally in El Paso, Texas, when the incident happened.
CNN's Jim Acosta has been heckled several times at Trump rallies with supporters of the USA president shouting "fake news" and "go home" behind him.
The president went to El Paso, on the U.S. border with Mexico, to campaign for a border wall, a divisive issue which caused the longest government shutdown in U.S. history.
Prior to the attack in El Paso, where Trump had made a decision to rally support for his contentious border wall, the president had regularly referred to the media as "fake news".
Why Princess Ubolratana's election nomination shook Thailand
Ubolratana on Saturday said in an Instagram post that she wanted the country "move forward and be admired by worldwide countries". Meanwhile, a chastened Thai Raksa Chart, a key pillar in Thaksin's election strategy, agreed to comply with the royal command.
"The crowd had been whipped up into a frenzy against the media by Trump and other speakers all night", Montague tweeted.
Washington News Editor Eleanor Montague tweeted first-person footage of the attack on her cameraman, Ron Skeans.
Standing under a Finish the Wall banner, Donald Trump insisted that large portions of the project are already under construction.
"I have been spat at before, they hurl abuse at American colleagues in particular".
Trump's 2020 election campaign will be as "hostile and ill-tempered and divisive as the one we saw last time", he added. "Here's a video of him being dragged out of press row".
He even railed at fact checkers yesterday in a rant on Twitter, accusing them of become "fake news".
Speaking to a packed stadium that holds about 8,000 in El Paso, Trump slammed the 'dishonest media'. His relationship with the media reached a nadir in October 2018 when he called it "the true enemy of the people".