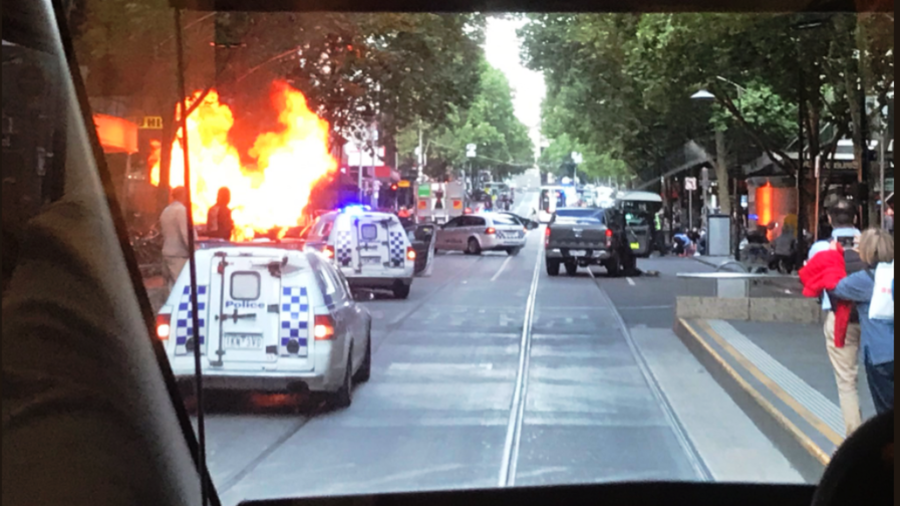 Police officers were confronted by a 31-year-old man at the scene, where he was shot after lunging at them with a knife.
Islamic State is taking credit for a savage terror attack in Australia that killed one man and could have left scores dead.
Chief Commissioner Graham Ashton said on Saturday the Somalian-born Khalif, also known as Hassan Shire, was the brother of a man arrested by police late a year ago in relation to committing acts in preparation for a terrorist attack.
A man yet to be officially identified parked his ute in bustling Bourke Street just after 4pm and preceded to stab three men, one of whom died at the scene. However, the police has clearly refuted any links of terrorism with the incident.
Video shows the man attempting to slash police officers with a large knife before falling to the ground.
Warning sirens sounded after the attack and police sealed off the downtown area, usually busy with shoppers and diners on a Friday evening.
Reports say people were injured close to the area where the vehicle was set on fire.
Mr Ashton added: "From what we know of that individual we are treating this as a terrorism incident", adding that the police counter-terrorism command was working on the case as well as homicide detectives.
Strawberry needle contamination: Accused woman faces 10 years' jail
Police were not able to immediately confirm any more details about the woman, such as where she was arrested. A farm supervisor who allegedly put needles in strawberries did so out of spite, a Brisbane court has heard.
The incident took place in Melbourne's Central Business District on Friday afternoon when people would have been leaving work.
Macquarie Radio has been told a auto "burst into flames" near the entrance of the Bourke Street Mall.
A second person, condition unknown, has been taken to hospital with a head injury.
He died later in hospital. However, police said they are unsure how the fire began.
The two others, aged 26 and 58, were in hospital with non-life-threatening injuries. Police initially responded to a report of a vehicle on fire near the corner of Swanston Street about 4.20pm.
The attack occurred during rush hour on Bourke Street and, according to witnesses, sent people running and screaming "he's got a knife".
"Because he was on his stomach, they turned him over to see if he's alright; he was still alive", he told AAP.
"This is an evil and terrifying thing that happened in our city and state today, and we condemn it", he said. James Cargasoulas is accused of driving his auto into pedestrians.