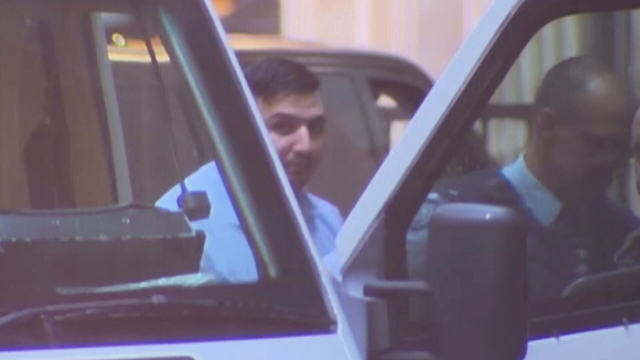 Terrifying footage has emerged of the moment a man lunged at police with a knife in Melbourne's Bourke Street on Friday afternoon.
A civilian can be seen pushing his shopping trolley at the attacker, which only momentarily stops the suspect from lashing his arm toward two police officers.
But after reaching the spot they witnessed that several people were stabbed and critically injured. Condition not yet known.
The incident began with police getting reports of a vehicle that had burst into flames on the Bourke Street in Melbourne.
Police officers at the scene on Bourke Street in Melbourne after a man attacked others with a knife.
Police shot a man who threatened officers with a knife and he is in a critical condition in hospital, Victoria Police Superintendent David Clayton said.
No terrorist link has been made at this stage of the investigation, according to police.
Police are urging any witnesses to attend Melbourne West police station to provide a statement, while anyone with vision or photographs from the incident is being urged to upload footage to the Victoria Police Facebook site.
Police warned people to avoid the area, but said they "are not looking for anyone further at this early stage". The journalist also said an emergency speaker system was warning people to avoid the area.
At least 13 dead in California bar shooting
There was probably three or four, I hit the ground", John Hedge, at the bar with his stepfather, told CNN affiliate KABC. It's unclear what the motive is and the connection between the gunman and the Borderline Bar and Grill.
Witnesses described a chaotic scene with an injured pedestrian lying on the ground, and numerous police cars and helicopters flying overhead.
A witness filmed the horrifying scenes as the attacker tried to thrust his knife towards police on Bourke Street. They said they heard screams and cries from the crowd before they were rushed from the area.
Witnesses said they heard a big bang and images appeared to show a auto on fire.
'Police response was swift and overwhelming.
Her immediate thought was, "Oh no, not another Bourke Street incident", she said.
A man from Neapoli Cafe in Russell Place told the Herald Sun that he heard a lot of bangs and others reported hearing loud explosions.
"I didn't know what was happening there was just so much chaos and screaming".
James Gargasoulas is accused of deliberately driving his auto into pedestrians on Bourke Street, hitting 33 people.