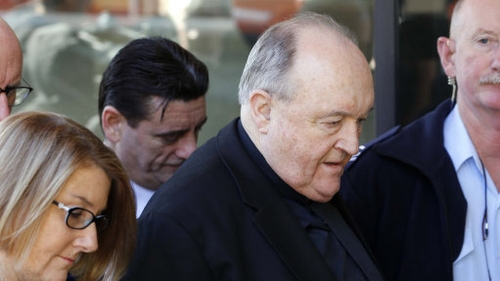 Former archbishop Philip Wilson, the most senior Catholic official in the world to be convicted of concealing child sexual abuse, avoided jail after a judge on Tuesday allowed him to serve his 12-month custodial sentence in home detention.
Stone said a report by the Gosford community corrections office found Wilson was suitable for home detention.
Former Archbishop Philip Wilson leaves Newcastle Local Court on July 3.
Peter Gogarty, one of Fletcher's survivors, reportedly asked Wilson if he would apologize for his crimes as the priest walked to his auto on Tuesday.
His lawyer Ian Temby told the court Wilson planned to appeal his conviction but would not be applying for bail.
Philip Wilson, 67, was sentenced to one year in jail for helping cover up crimes by priest Jim Fletcher in the Hunter region of New South Wales state.
Wilson said nothing but one of his supporters challenged Mr Gogarty as to why he did not come forward 40 years earlier and, when challenged by Mr Gogarty to a debate in front of the TV cameras, moved away and said: "I don't have time for rubbish like you, mate".
Fletcher faced nine counts of sexual assault against boys as young as twelve and was found guilty of his crimes and sentenced to at least seven years in prison with no parole.
He has long denied the charges and initially resisted calls to quit pending an appeal against his conviction.
Facebook signs deal to screen La Liga games in Indian sub-continent
In 2017 Facebook made an unsuccessful $610 million bid for the digital rights to the Indian Premier League cricket tournament. The deal will allow hundreds of millions of south Asian users to watch top-tier Spanish football matches for free.
But under mounting pressure from child abuse victims and Catholic priests to resign, and calls from Malcolm Turnbull for the Pope to sack him, Wilson offered up his resignation as a "catalyst to heal pain and distress".
The magistrate found Wilson had shown no remorse or contrition for the cover-up and his primary motive had been to protect the Catholic Church.
However, Mr Stone said he accepted Archbishop Wilson was unlikely to reoffend.
He said home detention was adequate punishment given Wilson's age and mental and physical conditions and that he had previously been of good character.
FORMER Adelaide Archbishop Philip Wilson is to start serving home detention from today (August 14).
"I'm beside myself about this", Mr Gogarty told reporters.
Bishop O'Kelly said an angry public were "hurting" but insisted Wilson was "concerned for healing" and urged the public to "remember he is a man who has done so much in child protection areas".
The Australian Catholic Bishops Conference, the country's top Catholic body that Wilson once led, had no immediate comment.